It's four days until Christmas, Kwanzaa is just around the corner, Hanukkah is in full gear — AND YOU STILL HAVEN'T FINISHED YOUR HOLIDAY SHOPPING!
Fear not, dear reader, I'm here to help. The perfect gift may be closer than you think. It's a book, of course, but more than the desperation choice you might make at a big store display.  Allow me to explain, through a brief story.
A while back the Canadian novelist Eric Wright (pictured below) told me that he wanted to write an essay about the book he always gives as a gift. It was an obscure work, "Small Talk at Wreyland" by Cecil Torr, published in 1918. Cobbled from diaries and notebooks of the author's father and grandfather as well as his own observations, "Small Talk" focuses on the mores of a rural English community in the 19th century. Like so many works of that period, it is wistful. Torr knows that modernity has doomed this world, and his book is not just a reminiscence but also a record.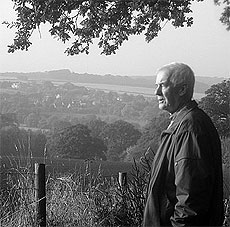 Wright's essay included many quotes and descriptions from the book — he seemed intent on conjuring Wreyland so that he might spend more time there. I sensed that his attachment to the work was grounded in something deeper than literary admiration. Knowing that Wright had been born in England but had moved the Canada while still a young man, I was certain that his ardor was connected to his lost past. I pushed him to explore these personal forces of memory and emotion to explain why he had made "Small Talk" the book he wanted others to think of when they thought of him.
My theory was only half right. This became clear after we took leave of the "Small Talk" essay and Wright crafted a brilliant piece about himself, class-consciousness and E.M. Forster's novel "Howard's End." He wrote: "Just before my eldest sister got married, there were 10 children, two parents and a pair of books living under our one roof. … I don't know where [they] came from. Perhaps my father 'found' [them] in the back of his van after one of the removal jobs he used to do when he wasn't delivering frozen beef from the London docks to the warehouses. [They] certainly [weren't] bought; by the time I was 6 we had risen to join the lower working class, having just escaped from the underclass, the London poor, but no one at our level had the money to buy books."
So the quiet, rural life I had imagined for Eric couldn't have been further from the truth. My nature boy had been, in fact, a street urchin. His life bore no relation to the book he had thrust into so many people's arms with the words, "from me." Suddenly his love of "Small Talk" made perfect sense because I had had a similar experience. While still in my 20s and living in the crowded city of my youth, New York, I made a pastoral novel celebrating a lost era my gift of choice. I believed that "The Growth of the Soil" (1917) by the Norwegian Nobel laureate Knut Hamsun was one of the finest books I'd read, but my choice also told recipients something about me.
Like Wright's gift, "The Growth of the Soil" did more than confirm what they already knew. Instead of offering a book in sync with our smog-choked lives, "Soil" and "Small Talk" offered a vision of the lives we might like to have led. Instead of showing people our realities, we opened the doors to our imaginations, sharing our secret yearnings.
Which brings us back to your holiday problem. Obviously you're having little luck figuring out what they would love, so why not give them something you love. Gifts become more than an exchange of loot when they have personal meaning, when their value exceeds their price tags in ways that can only be measured by the heart. Instead of the latest best seller, give them a book with history: the one that you loved as child, that changed your life, that carried you through a tough period or gives voice to thoughts you only whisper to yourself at night.
Why just give them something when you can give them yourself?